SHARSMITH PEAK Letters to Legislators Back to Home page Back to References and Resources
letter to Senator Mark Udall (CO )
letter to Representative Rob Bishop (UT)
LETTER TO U. S. REPRESENTATIVE SCOTT TIPTON, 3RD DISTRICT OF COLORADO:
B ill JONESólead member
Sharsmith Peak/Name4Carl Committee
0637 Blue Ridge Rd
Silverthorne, CO 80498


February 11, 2013

Honorable Scott Tipton
U.S. Representative for the 3rd District of Colorado
House of Representatives
218 Cannon House Office Building
Washington, DC 20515

Dear Representative Tipton:

Because of your membership on the House Subcommittee on Natural Resources, Public Lands, and Environmental Regulation, I am forwarding to you a letter I recently mailed to Chairman Rob Bishop of the above subcommittee.

As the referenced letter states, the Sharsmith Peak/Name4Carl Committee has as its purpose the formal establishment through legislation of the Sharsmith Peak name for a mountain in California on the eastern border of Yosemite National Park. The late Dr. Carl Sharsmith (1903-1994) is renowned for his contributions to nature interpretation and science, delivered during a span of 64 summers as a ranger-naturalist.

Our committee is hoping for your support and guidance in this. You may know Colorado Senator Andy Kerr, who has expressed his support of the proposal to formally establish this name. Members of our committee in California and elsewhere in the United States are also contacting legislators.

I have also informed Representative Doug Lamborn of Colorado, also of the House Subcommitee on Natural Resources, Public Lands, and Environmental Regulation of this naming proposal, as well as Representative Jared Polis in whose district I reside. Letters have also been sent to Senator Mark Udall of the Senate Subcommittee on National Parks and to Senator Bennett.

Thank you for your attention,

Bill Jones
Sharsmith Peak/Name4Carl Committee: Bill Jones (CO) (lead member), Bob Barbee (MT), Bryan Harry (HI), Len McKenzie (CA), Wayne Merry (BC), Jack Morehead (CA), Dr. Owen Hoffman (TN), Dr. John Lemons (AK), Allen Berrey (CA), Jim Sano (CA), and Bill Wendt (CA).
LETTER TO U. S. SENATOR MICHAEL BENNETT OF COLORADO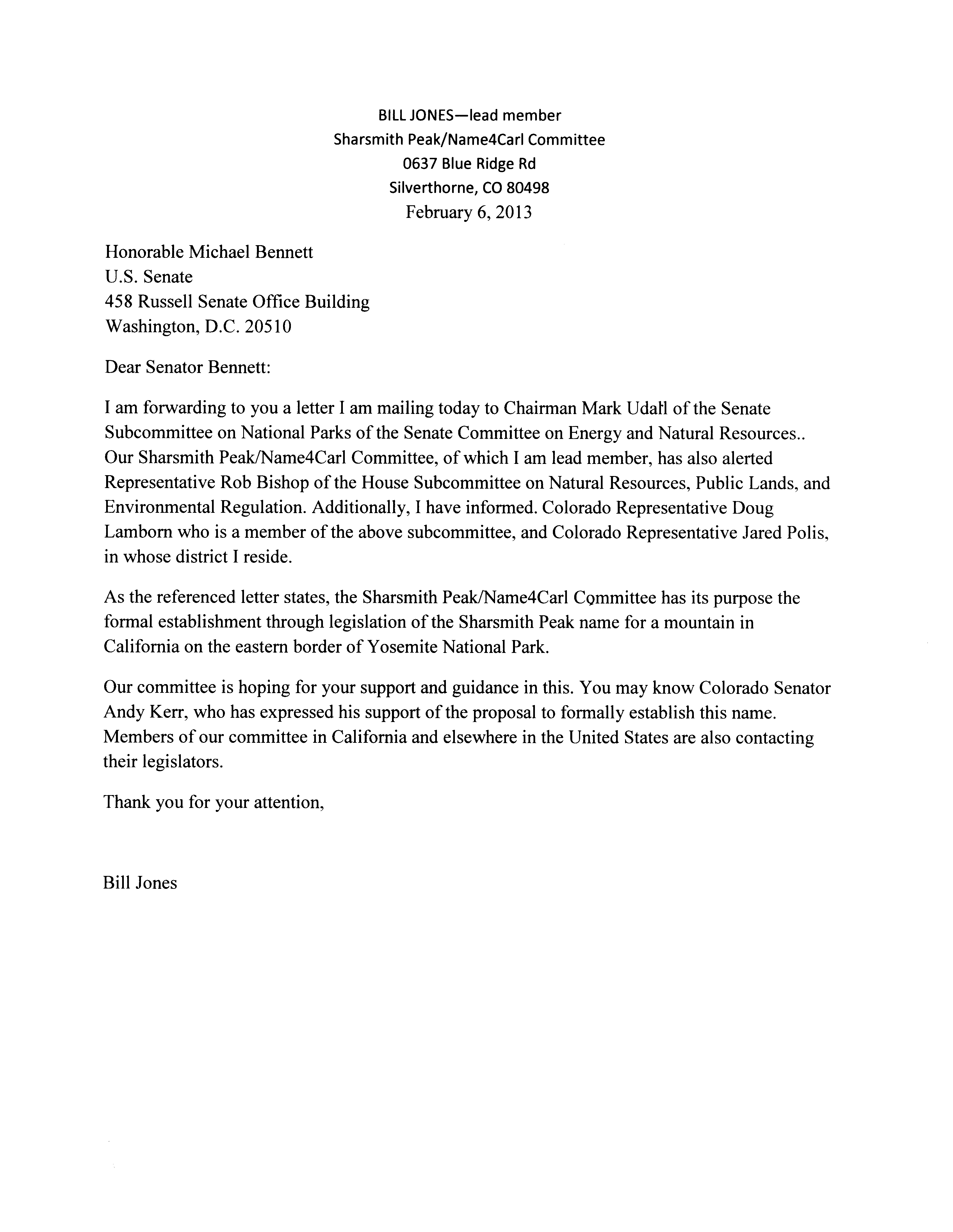 LETTER TO U.S. REPRESENTATIVE DOUG LAMBORN OF COLORADO: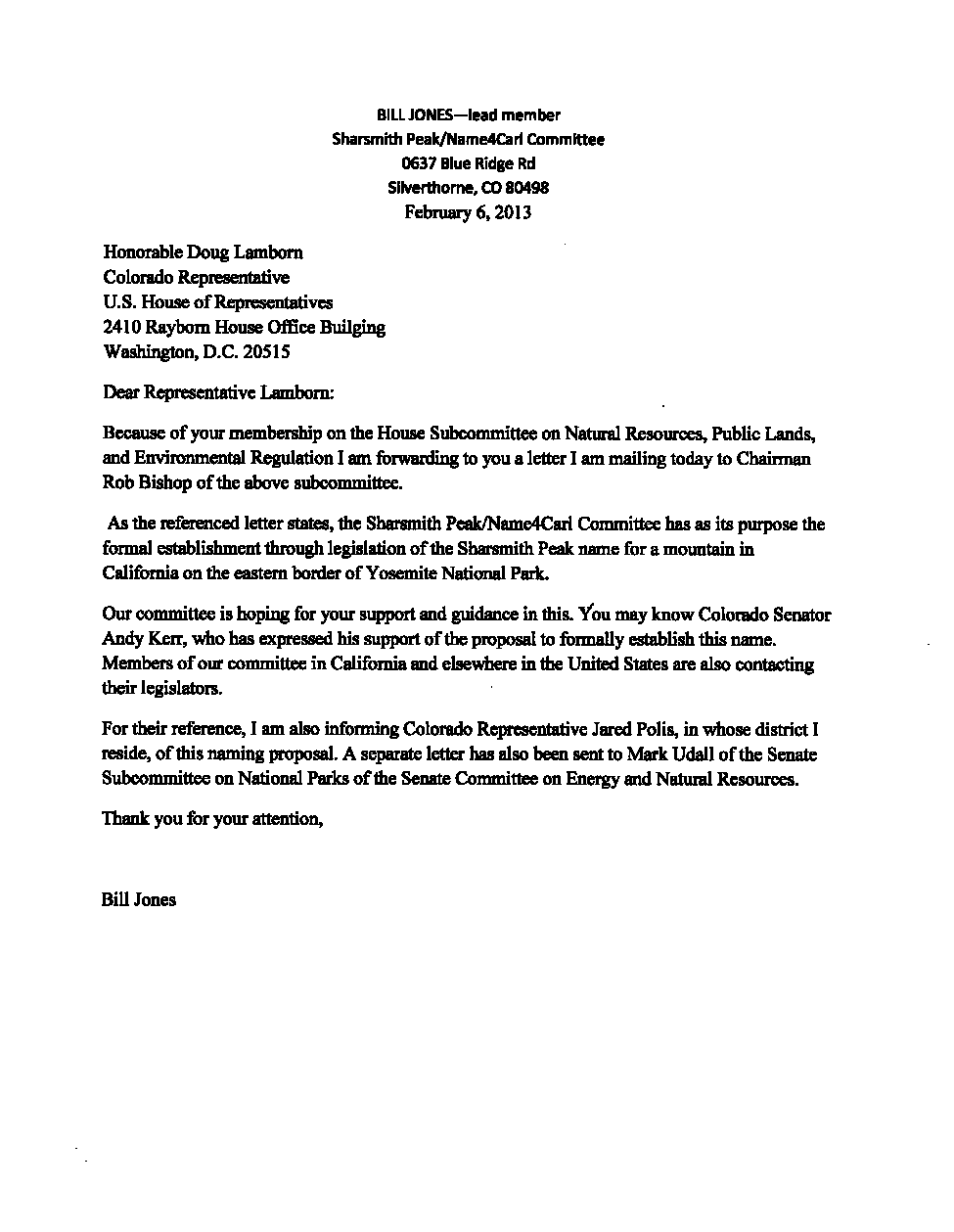 LETTER TO U.S. REPRESENTATIVE JARED POLIS, 2ND CONGRESSIONAL DISTRICT OF COLORADO: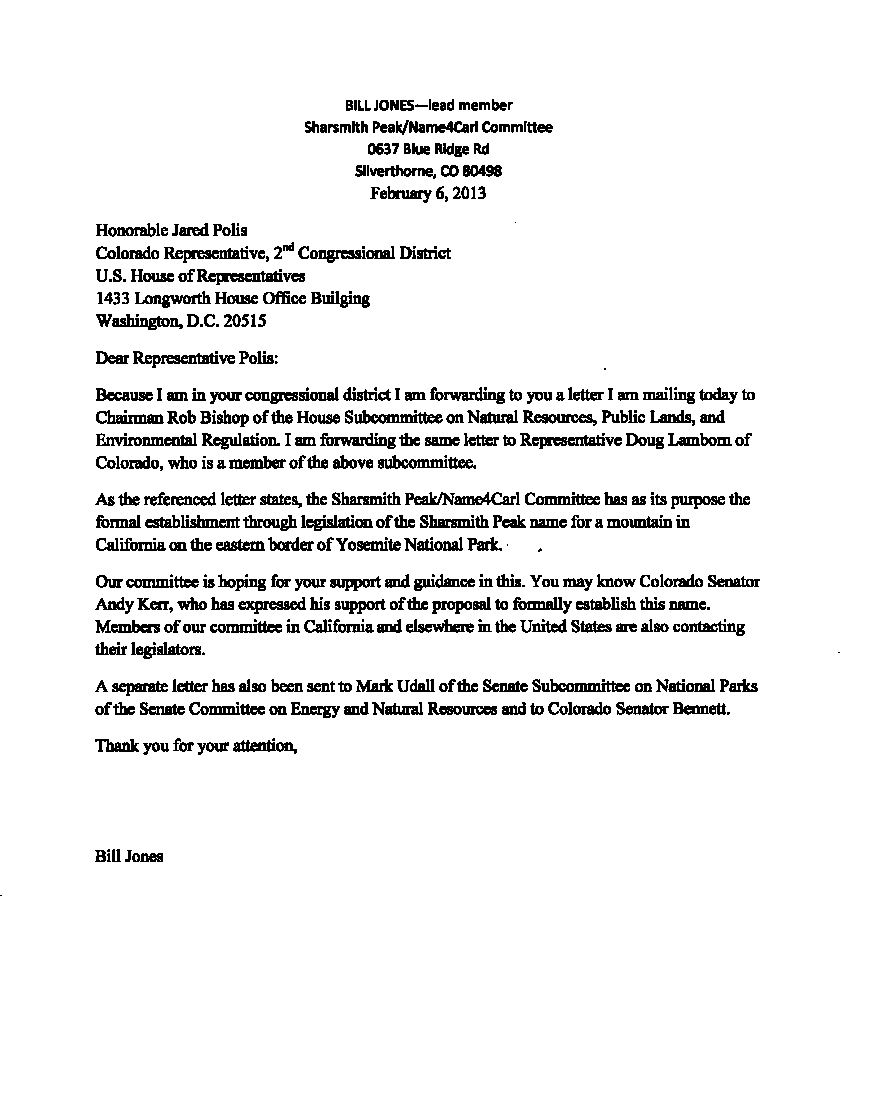 Send emails to Sharsmith Peak Committtee