HOME & SYNOPSIS/STATUS REPORTS Purpose & Method Who was Carl Sharsmith? Why name a Yosemite feature for Carl?/Origin of Proposal Which feature should be named for Carl? How can a feature be named for Carl? Summary of Supporting Statements Contacts/Resources Webmaster Search Form
Back to Home page of SharsmithPeak.org
Use of this site means you accept its terms and conditions.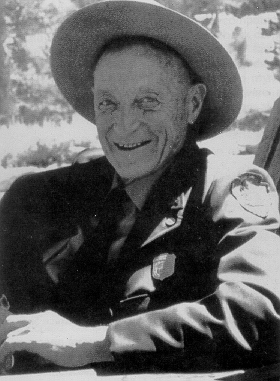 A proposal to formally name
SHARSMITH PEAK
in Yosemite National Park/Inyo National Forest
for
Ranger-Naturalist Dr. CARL W. SHARSMITH
(1903-1994)
On January 9 ,2007 this proposal was formally
submitted to the Board on Geographic Names--
see "Transmittal of Proposal Form."
You can still partcipate--see "How can a feature be named for Carl?"
Status Reports for Sharsmith Peak naming
February 2013 update:
A legistlative initiative has begun to have Sharsmith Peak formally named
by an Act Of Congress.
The Name4Carl Committee is now the Sharsmith Peak/Name4Carl Committee.
A new website carries the naming effort forward: www.sharsmithpeak.org.
Join the effort by contacting your legislators!
by Name4Carl Committee: Bill Jones (lead member), Bob Barbee, Bryan Harry, Len McKenzie, Wayne Merry, Jack Morehead, Dr. Owen Hoffman, Dr. John Lemons, Bob Fry (deceased), Douglass Hubbard (deceased), Allen Berrey, Jim Sano, and Bill Wendt.
www.name4carl.org
email
HOME & SYNOPSIS
Ranger-naturalist Carl Sharsmith by Allan Shields. Courtesy John Sharsmith
and Allan Shields, Climb Every Mountain: A Portrait of Carl Sharsmith.
Permission to reproduce on the website name4carl.org received from Allan Shields, 4/20/06.
Hear Carl extol Yosemite (if requested for a password, just click on cancel, then Real Player will start in a moment).
(sound clip courtesy Tom Bopp at www.yosemitemusic.com) This link is currently broken; need to copy sound file from music CD.
Purpose of this website & method: This website has a single purpose: to name a landscape/map feature of Yosemite National Park for Carl W. Sharsmith (1903-1994). Learn more at "Purpose & Method".
Who was Carl Sharsmith? Dr. Carl Sharsmith was a long-time seasonal ranger-naturalist who served at Yosemite National Park, primarily at Tuolumne Meadows, during most summers from 1931-1994. His forte was leading nature walks and hikes and conducting campfire programs, with his strongest strength being his knack for giving personal inspiration to his listeners. Over the years he influenced untold thousands of park visitors to appreciate natural history, now called ecology. He did original botanical research on Sierra meadows for use in managing and preserving them. He trained naturalist staff and was recognized nationally for his skill and motivational talent. He was also a professor of botany at San Jose State University where he established and personally endowed an herbarium now named for him and that emphasizes alpine species such as those that occur in what was his summertime mountain home. He also supported the collections of the Yosemite Museum. Carl is an icon of the High Sierra of Yosemite National Park. Learn more at "Who Was Carl Sharsmith?".
Why name a Yosemite feature for Carl?/What is the origin of the proposal? Among those with whom Carl came in contact, the memory of Carl and his teachings and of his talent for teaching remains strong. In their lives, they continue the good works he inspired. In the future, his memory can similarly motivate people who may not have known him. A landscape/map feature would remind us to continue to emulate his ideals and strive for knowledge in understanding our natural environment--a high purpose for the educational ethic. His importance in the history of the mountain range matches that of its explorers, early mappers, soldier- and civilian-rangers, chroniclers, and photographers--the roles of all of whom are recalled by their names on Sierra Nevada peaks. Additionally, having the peak bear the single name Sharsmith Peak rather than four names (Peak 12,002, Sharsmith Peak, False White, and False White Mountain Peak) as now would define reference to this point, simplifying management by the park and forest services as well as enhancing safety by reducing the chance for confusion in the event of a rescue effort on its slopes. Learn more at "Why name a Yosemite feature for Carl?/Origin of Proposal."
Which feature should be named for Carl? While Carl was still alive, an informal proposal began at least by 1976 to name a mountain peak for him. Various summits were considered, with the proposal finally settling on the unnamed peak on the Sierra Nevada crest that is labeled 12,002 on the Tuolumne Meadows 15-minute quadrangle topographic map. This peak sits at the border of Yosemite National Park and Inyo National Forest, north of Tioga Pass. It is an alpine peak, with ample fel-field meadowlands where alpine plants grow (a special botanical interest of Carl). Although not imposing, the peak stands alone between White Mountain and Gaylor Peak. It is at the eastern edge of legislated Yosemite Wilderness and the western edge of the Harvey Monroe Hall Research Natural Area of Inyo National Forest. Over the years since Carl's passing, park staff, Yosemite Association persons, and others have begun referring to this summit as Sharsmith Peak. Ski mountaineers came to call the peak False White and False White Mountain Peak, and it has also been called Peak 12,002. Learn more at "Which feature should be named for Carl?".
How can a feature be named for Carl? Name proposals are considered by the Board on Geographic Names, a body within the U.S. Geological Survey that is composed of appointed officials from several federal agencies. The Board has adopted criteria with which to judge proposals, and also considers input from other federal agencies and state and local governments as well as the public. Among the Board's criteria for considering proposed names are whether a feature has already been named, local opinion and usage, location with respect to wilderness, and opinion of land-managing agencies, regional governments, and Native American groups as well as individuals and organizations. Learn more at "How can a feature be named for Carl?".
Summary of Supporting Statements. Supporters of this proposal include many past officials of Yosemite National Park and the National Park Service (including 3 national directors, 2 regional directors, 5 Yosemite superintendents, 4 Yosemite chief park naturalists, Service representative to the Board on Geographic Names, Yosemite wilderness manager), a past director of the U. S. Geological Survey, area business persons, geologists, botanists, authors, artists, and persons and leaders of relevant environmental and historical associations as well as individuals whose connection with the proposal is their enthusiasm for their park and for Carl. The 10,000-plus member Yosemite Association endorses the naming. Learn more at "Summary of Supporting Statements"
Who are contacts regarding this project and what resources are available? An informal committee has formed. Others are advising and assisting. Learn more at "Contacts/Resources"
Webmaster for sending comments on this website: Help make this site serve you better. Learn more at "Webmaster".
Terms and Conditions for use of website www.name4carl.org. This website is copyrighted but use for its purposes will be granted if requested in advance. Submissions to it may become public. Learn more at Terms and Conditions.
Copyright © 2013-21. Name4Carl Committee
Visitors to site since inception
---
This "Home & Synopsis/Status Reports" page last modified 04/11/2011: \name4carl\default.htm.
HOME & SYNOPSIS/STATUS REPORTS Purpose & Method Who was Carl Sharsmith? Why name a Yosemite feature for Carl?/Origin of Proposal Which feature should be named for Carl? How can a feature be named for Carl? Summary of Supporting Statements Contacts/Resources Webmaster Search Form
Back to Home page of SharsmithPeak.org